Click to see more
Wolverine Dusting Grid
Clean rugs effectively with this 6' x 9' (1.8 x 2.7m) heavy duty steel grid. Rolls up for easy storage.
FREE SHIPPING DOES NOT APPLY TO THIS ITEM. PLEASE RING FOR DETAILS
---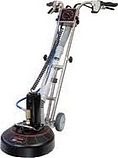 Click to see more
Rotovac 360i—triple jet
The Rotovac 360i is a Patent Pending Rotary Extraction Power Head that utilizes rotary vacuum heads to thoroughly deep clean carpet with hundreds of multi-directional cleaning passes. The 360i weighs only 17.6 kg and is extremely easy to use as it operates in a self propelled side to side motion. Simply stated, The 360i cleans better with less effort. The triple jet cleaning head is perfect for ANY portable or truck mount machine.
---